628 Couverts Classique
Description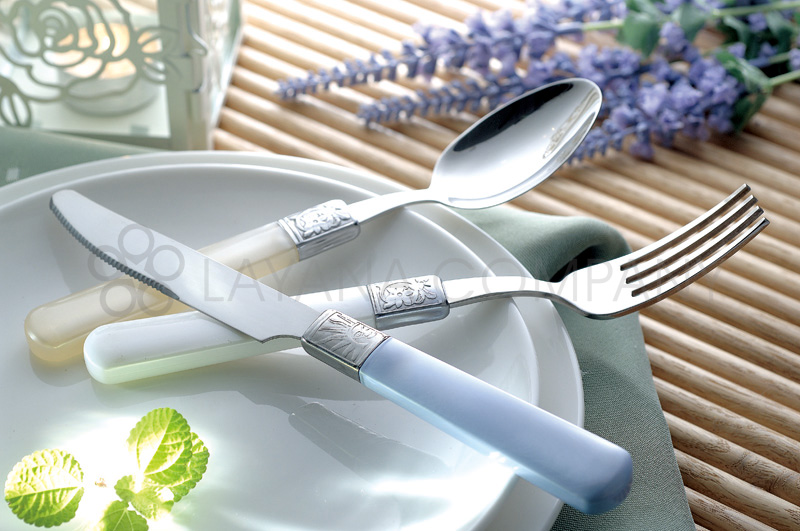 Déscription
628 classic series contains stainless steel for metal parts and sleeve, and AS food grade plastic material for handle. The pattern of sun or flower is embossed on the handles, and the colors and designs can be chosen depending on customer's own favor. All advantages, safe, light and handy, make the simple cutlery be more exquisite.
Spécification
Size: Dinner Knife 20.8cm / Dinner Spoon 19.5cm / Dinner Fork 19.5cm / Teaspoon 14cm
Material: 18/0 Stainless Steel, AS Food Grade Plastic
Instruction
85℃ Heating-resistance & Dishwasher Safe。Please clean the flatware with water & dry cloth before the 1st use. For use at ordinary times, please wash with the neutral sanitizer, polish with the clean cloth, and put it in well ventilated place. It would extend the flatware usage.
Attention
Please don't close to the fire source, don't put and use in microwave oven and etc
Original
Made In Taiwan
caractéristiques
Différents matériaux combinés
Facilité d'utilisation, léger et maniable
Manche en acier inoxydable, sans l'utilisation de la galvanoplastie
Polissage de haute qualité
Certifié ISO 9001
Résistance à l'essai de traction pour les couverts de table: 137 kgs testé
Résistance à la rupture : 19 kgs testé
SGS lave-vaisselle
Service OEM
Tags
baguettes
,
baguettes asiatiques
,
baguettes chinoises
,
Beau couteau
,
cadeau
,
cadeaux
,
couteau à dessert
,
couteau bébé
,
Couteaux enfant
,
Couteaux enfants
,
Couvert à gateaux
,
Couvert à salade
,
couvert de table
,
Couverts bébé
,
couverts de table
,
couverts de table usine
,
Couverts enfant
,
Couverts enfants
,
Cuillère
,
Cuillère à café
,
Cuillère à dessert
,
Cuillère à salade
,
Cuillère bébé
,
Cuillère enfant
,
Cuillères enfants
,
Environnement
,
fabriqué à Taiwan
,
Fourchette
,
Fourchette à dessert
,
Fourchette à gâteau
,
Fourchette à salade
,
Fourchette bébé
,
Fourchette enfant
,
Fourchettes enfants
,
Pelle à tarte
,
petite Cuillère
,
petite fourchette
,
Vaisselle
,
vaisselle usine